Carbon Monoxide Monitors: What They Do & How They Work
---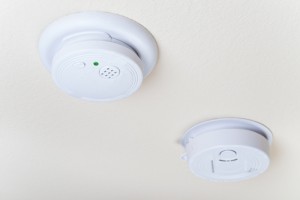 Carbon monoxide is known as the silent killer. Every year, this tasteless, odorless, and colorless gas is responsible for sending 15,000 people to the emergency room and results in the death of another 480. According to the Journal of the American Medical Association, carbon monoxide poisoning is the leading cause of accidental poisoning in the U.S. When carbon monoxide enters the lungs, it inhibits your red blood cells' ability to absorb and transport oxygen, which can permanently damage the brain and lungs, and can induce suffocation. Carbon monoxide is something every homeowner should be aware of and take seriously. Many home appliances or services that run off of fossil fuels can emit this gas if they aren't working correctly, and it can be nearly impossible to detect without something to help identify it. One of the best ways to avoid you and your family's exposure to this gas is to have carbon monoxide monitors installed in your home, and these can be installed either individually or as a system.
What Exactly Is A Carbon Monoxide Monitor & How Does It Work?
Simply put, a carbon monoxide monitor is like a smoke detector, but it is specifically purposed to detect and alert you to dangerous levels of carbon monoxide in your home. These monitors will sound an alarm when they sense a certain amount of carbon monoxide in the air over time. There are a couple different ways these devices work depending on the type of monitor you choose to install in your home.
Biometric Sensor: This device uses a gel that will change color when it absorbs carbon monoxide. When this gel changes color, it triggers the sensor and the alarm will sound.
Metal Oxide Semiconductor: This type of sensor uses a silica chip that is designed in such a way as to lower the chip's electrical resistance when its circuits detect carbon monoxide. When this change occurs, the alarm will go off.
Electrochemical Sensor: This sensor contains electrodes that are immersed in a chemical solution which sense the changes in electrical currents that occur when they come into contact with carbon monoxide.
With all of these sensor types, the alarm will continue to sound until it allowed to reset in a carbon monoxide free environment.
What To Do If Your Sensor Goes Off
First off, it is important not to panic. You should gather everyone in the house and get everyone outside into the fresh air. Carbon monoxide poisoning can have symptoms that are very flu-like in nature, so be on the lookout for these, and if anyone in your family is displaying these signs, call 911 immediately. If possible, open as many doors and windows as you can on your way outside, and do not re-enter your home until the alarm stops sounding. Then you should contact a professional HVAC contractor to have your home evaluated to prevent possible leaks in the future.
Placing Your Carbon Monoxide Sensors Effectively
Check your local laws to see if there are specific configurations you must have for you CO monitors first. If you install them in your home, it is good to have one outside of each sleeping area, and on each floor of your home. At this point, you should also consider if you want to link your monitors so that when one goes off, all the rest will do the same.