Kathe Stewart & Larry Stewart of Precision Air Conditioning & Heating, WIN NATIONAL AWARD
---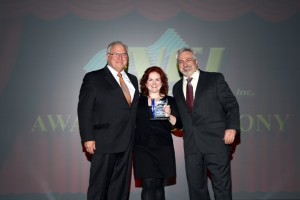 The brother and sister team of Kathe Stewart (COO) and Larry Stewart (President) of Precision Air Conditioning & Heating, Memphis, TN, were presented with the 2013 NCI Chairman's Award by National Comfort Institute (NCI) during their 2013 Annual Conference in Austin, TX, March 17-22.
Each year, this prestigious award is presented to individuals who are staunch supporters of NCI's mission to help heating and air conditioning contractors deliver measured performance of the highest possible quality and value to their customers. The winners also implement company-wide Performance-Based Contracting™ practices and contribute a great deal of time to sharing their HVAC industry knowledge with others.
Kathe and Larry Stewart boast all of these attributes and more. They are dedicated to the concept and practice of Performance-Based Contracting™ and invest heavily in continuing education for their employees on the latest home and building comfort and safety practices provided by organizations like National Comfort Institute (NCI). Those attending NCI training earn Certifications that offer further reassurance to customers.
Why choose an NCI certified contractor like Precision? For the same reasons most choose:
– A certified public accountant to do our taxes
– A certified realtor to sell our houses
– An AMA-certified doctor to examine and treat us
– A bar-certified lawyer to represent us in court
In all of these professions, the designations come to people who have studied, tested and achieved a level of competence that resulted in receiving a professional designation. An NCI certified contractor in system performance and balancing, or certified in carbon monoxide and combustion is no different. NCI certified contractors have attended classes, use specialized equipment and are constantly up-to-date on the latest diagnostic and repair techniques in these fields.
An NCI certified technician has passed a recognized testing process which validates his or her understanding of the technology and procedures used in this field. In addition NCI monitors their certified contractors and requires recertification every 2 years.
Since 1973, family-owned Precision Air Conditioning & Heating has served the Greater Memphis Area. According to Kathe Stewart, "We specialize in making your house feel like the place you want call home every day. How? By making your home comfortable, safe and healthy through design, installation, testing, service and maintenance of your air conditioning, heating, indoor air quality products, insulation, duct cleaning, hot water and total home comfort solutions."
Larry Stewart adds, "We make a continual investment in the training and diagnostic equipment required to measure, record, protect and enhance the actual performance and safety of your air conditioning and heating system and the air inside your home. We address all the pieces of your home that need to align properly for your equipment to exceed your expectations. Because of this, we are able to diagnose and solve problems missed by others. Your total satisfaction is our goal."